About Mario Rodriguez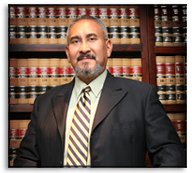 Mario Rodriguez's experience means that you'll have the best knowledge and education on your side -- an informed, experienced lawyer working for you every step of the way.
An experienced trial attorney, Mario Rodriguez has been a criminal defense attorney for over 29 years. He represents clients charged with serious felonies in both State and Federal Court throughout the United States.
One hundred percent of Mr. Rodriguez's practice is defending individuals and businesses in the area of Criminal Law. Investigating agencies have included local police departments, the Sheriff's departments, the FBI, The ATF., and the U.S. Customs Service.
Mario Rodriguez is a member of the following organizations: American Bar Association; National Association of Criminal Defense Lawyers; California Attorneys for Criminal Justice, California Public Defenders Association, 1986 to present; Riverside County Bar Association, Desert Bar Association - Criminal Law Section, 1992-1995.
Mario Rodriguez has sat as a judge pro tempore in the Superior Court, County of Riverside.
Mario Rodriguez is a graduate of the University of Los Angeles, CA (UCLA), where he received his both his BA in 1977, and his Juris Doctor from the School of Law in 1980. He was admitted into the California State Bar as an attorney later that same year, and began practicing as an attorney.
In 1997, Mario Rodriguez was certified as a Criminal Law Specialist, certified by the Board of Legal Specialization, State Bar of California. He is one of only fourteen Certified Criminal Law Specialists in Riverside County.
Our Team